We are a family-run company with fifteen years of experience in the field. we have our head office in Croydon but we work in other areas of the nation as well. one of which is Bromley. In Bromley, we offer several services including roof repairs and chimney repairs Bromley. Our services include dealing with the installation, repair, and replacement the roofs and chimneys. We consider every job equally important and give equal attention to all of the projects. Our years of experience in the field have taught us valuable skills to excel in the market. No matter what kind of job it is, you can expect that we will complete it professionally.
What Do We Offer?
We offer all kinds of chimney repair services. no matter what kind of issue you have with your chimney, we are here to fix it all and leave your chimney as good as new.
We go through the following important steps to fix your chimney properly. Your chimney damage may require only basic repairing but our local chimney repairs Bromley team will make sure that we catch all the hidden issues and fix them before they cause any serious issues.
Request a Free Estimate
Need to know how much your cost?
Mortars are very rigid and smooth at the time of applying them. so they hold all of your bricks together firmly. But with the passage of time, the mortar gets weekend and it gets crumbled. Moreover, the extreme weather conditions also deteriorate the mortar first as it is softer than bricks.
So crumbling mortar should be fixed immediately or else the bricks can all crumble and fall down resulting in a destructed chimney. It can put your activities at a halt. So, it is better to repoint or tuckpoint it while you can. It is a process in which the crumbled mortar is scraped out and the new mortar is placed.  our chimney repairs Bromley is skilled at using relevant tools in repointing the chimney.
Caulking the Glue and the Crown Joint
Water can enter your home only through the joint between the flute and the crown of the chimney. it is the cap of concrete that is used to cover your chimney.
It is not uncommon for gaps to form in this area after hard weather conditions. And through these gaps water can flow down and cause damage.
Our chimney repairs team will clean out the dirt and debris from there and will fill this gap using a high heat mortar tube and caulk gun.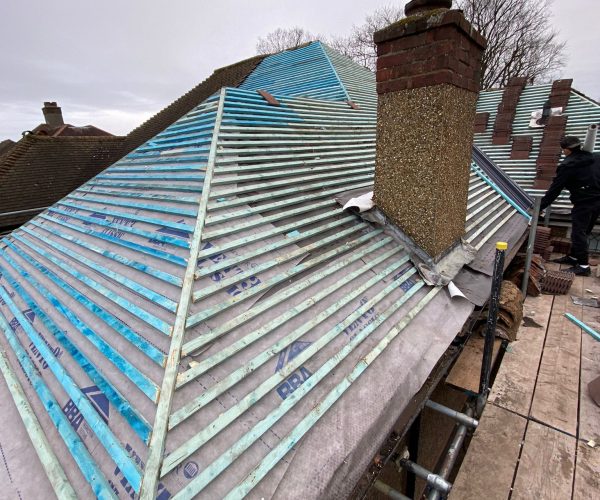 Fixing Cracks in the Large Crown Areas
The chimney crown is one of the most important parts of your chimney as it prevents the water from pooling on the top of the chimney. so, if there are cracks in the crown of the chimney then in the vertical section. Our team uses pre-mixed cement patches and mortars to fix the bigger cracks that are 1 inch in diameter. our chimney repairs in Bromley team will make sure that the mixture gets into the cracks by squeezing the bottle or forcing it in the crack with the help of a putty knife. After that, you will have to leave it for a maximum of six hours to let it dry.
Small cracks in the chimney bricks can be repaired with the caulk gun or the high heat mortar. But sometimes the cracks are thin like hairlines then they are repaired and closed by using a masonry sealer to brush them.
Replacing the Cracked Brick
Sometimes a brick or some bricks are severely damaged and there is a possibility that they might affect the other bricks. It is better to remove such bricks to save the other bricks. Our chimney installation Bromley team is highly skilled and they will replace that single brick with a new brick without affecting the other bricks.
Cost of Chimney Repair
We are a team with experienced and skilled team members who are equipped with all the necessary tools to professionally repair and install the chimneys. So, we offer reasonable chimney repair costs as we do not charge additional costs.
Whether you want chimney installation or repair, contact us.
In short, we are the solution to all of your chimney problems. So, call us.
Contact Form
Need Any Roofing Help?