A roof structure protects your property's interior space and valuable assets from external environmental damage, limiting direct exposure. It is vital to maintain the optimum condition of the roof to have an effective barrier on your property. Therefore, hiring professional and experienced services to assess your roofing condition and getting expert advice for necessary improvements is recommended.
Positive Roofing houses the best roofers in Purley, having plenty of experience delivering various projects successfully. Our roof installers ensure to follow the highest standards, providing specialised installation, repair, and replacement solutions.
Common Signs of a Problematic Roof
It is important to maintain your roof in good condition, and this thing demands you to know about problematic signs which indicate the compromised quality of roof structure:
Request a Free Estimate
Need to know how much your cost?
Why Hire Professional Roofers?
Our local roofers are well-educated in roofing problems, providing you with the most feasible solution.
We have fully accredited experts who are competent enough and deliver reliable roofing services.
Our professionals employ the latest equipment and tools to complete roofing projects safely and securely.
We have a detailed understanding of all the relevant regulations, offering advice regarding the Building Regulations and planning permission requirements.
Process of Roof Replacement
Our roofing specialist undertakes the following steps for roof replacement:
Removes the old roof.
Performs rafter work, if required, after the removal of old roof material.
Lays the roof structure.
Adds breathable, insulating, and weatherproof felt.
Lays roof battens over the felt.
Adds roof tiles for completing the project with greater efficiency.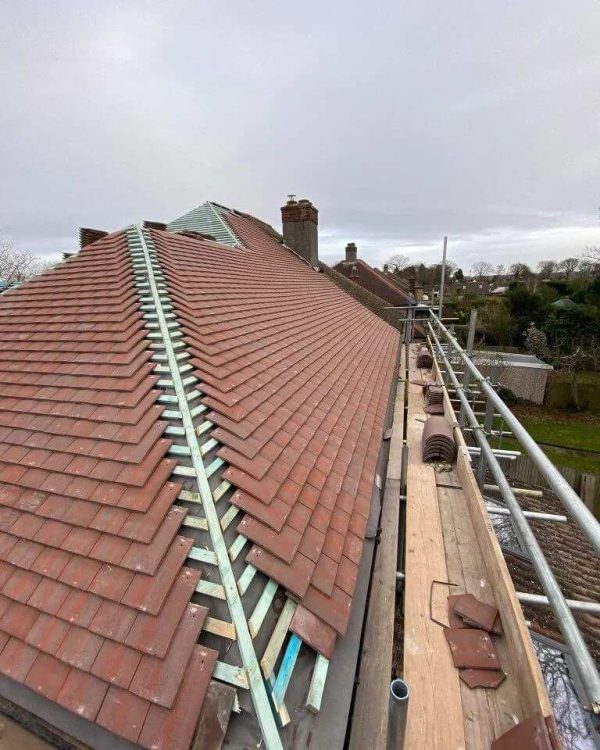 Roof Repair Services
Our roofing services in Purley also cover repairs to keep your roof dry and warm. We repair the damages promptly so the issues do not exacerbate or lead to more costs.
Get your damaged or missing tiles replaced, leaks repaired, the chimney condition restored, and efficiently have the problem of sagging roof structure sorted.
Get in Touch with Us Today!
We install high-quality roofing materials that stand the test of time, ensuring they are fit for purpose. We pride ourselves on:
Guaranteed Work
Minimum Disruptions
Customised Services
High-Quality Materials
Speak to our professional roofers in Purley today and avail yourself of our efficient services.
Contact Form
Need Any Roofing Help?